SwimEEZY - the Ultimate Swimming Aid
It is an excellent swimming aid...Pat Taylor (leading Australian swim coach and author of "Kids Can Swim")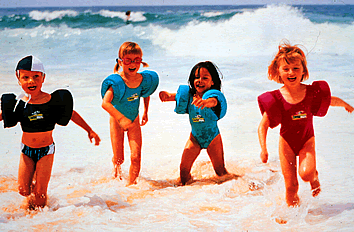 Pictured here kids having fun in the surf @ Bondi Beach, Australia.
The boys swimming aid is a vest, and the girls a one-piece costume. The flotation foam is built into the suit, so there is no risk of it slipping off. The position of the foam, over the shoulders, does not restrict arm movement, like traditional arm bands, and there is no risk of overturning. SwimEEZY swim aids quickly build the water confidence that is vital in order to progress towards unaided swimming.
3 sizes cover the 2-6 year age group. For children under 2 years we do not recommend SwimEEZY, as the strength in the neck is insufficient for use of proper swimming aids. For this age group please see our range of flotation aids.
Sun safety - All SwimEEZY swim-aids use UPF 50+ rated fabrics. The unique 2-in-1 flotation sunsuit, pictured below, offers the ultimate peace of mind in one great product.
SwimEEZY - 2-in-1 Flotation Sun Suit